Because the bridge stretches across the South Platte River and is the first commuter train bridge traveling south to north, it ignominiously got tagged with the moniker, "Splatte 1."
The Denargo bridge also runs parallel to Denargo Street, across the old Union Pacific tracks as well as over the river.
Construction workers spent ten days in September setting 17 spans consisting of pre-cast concrete girders. The bridge is not designed for pedestrian or bicycle access but is designed with two sets of tracks so trains can pass in opposite directions.
The track rails will be directly fastened to the bridge deck which eliminates the need for ties or ballast. Ballast, or crushed stone, is usually packed between, below and around railroad ties to form the trackbed upon which the ties are laid.
More fun SPLATTE 1 facts:
The Denargo Bridge is 1,839-feet-long and 35-feet-wide

Rises 26-feet high over the South Platte River

Weighs just over 21 million pounds

Denargo Bridge is the first of three bridges to cross the South Platte River along the N Line, ergo, the nickname SPLATTE 1.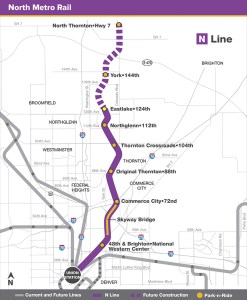 Read more about bridge building.
We're also building bridges on the Southeast Rail Extension.
Scheduled for completion in 2018, the N Line (referred to as the North Metro Rail Line during construction) will be an 18.5-mile electric commuter rail line running from Denver Union Station through Commerce City, Thornton, and Northglenn and eventually to Highway 7 in north Adams County. Currently the first 13 miles, to Eastlake & 124th, are under construction.
The post FasTracks News – What is SPLATTE 1? appeared first on North Denver Tribune.