NORTH DENVER — Thanksgiving weekend kicked off the official holiday season. It started with a Turkey Trot around Sloan's Lake to make room for the Big Bird later that day. But, the true spirit of the entire community came together when the Big Guy came riding into town on Small Business Saturday.
Small businesses throughout the Highlands issued passports to shoppers to encourage shopping local & small, thinking outside of the big box for unique and clever gift ideas. 32nd Ave. merchants featured specials throughout the weekend. Cobblers Corner created a Scavenger Hunt for patrons to discover new gems in Sunnyside. The Tennyson Berkeley Business Association launched their annual Passport Crawl with over 25 participating businesses through December 3. To get shopping mojo going, the Midwestern Saloon on Tennyson hosted Breakfast with Santa and fed the throngs with Mr. Claus pancake lookalikes.
Pine scented the air with fresh cut trees from the Elitch Carousel and Little Man's Tree Lot on the Plaza, as people picked and hoisted their fresh green loot atop cars. Little Man is even offering a home delivery this season to take the sweat out of sweet memories.
Festivities wafted through the streets as neighborhoods counted down for the big tree lighting ceremonies. Tennyson's tree was lit up with 200 guests at Cesar Chavez Park enjoying photos with Santa, face painters and kids crafts.
In LoHi the once "little & local" Holiday Lights event has turned into a huge community gathering with over 2,000 attendees. With a neighborhood-wide spirit of giving it was supported by the LoHi Merchants, HUNI, LoHi Marketplace, 5280 Church and restaurants throughout the hood. Clydesdale hay rides, tiny ponies, Christmas carols, candles and dancing Horas in the street were led by Anya Thompson of the Music Train. And, of course, pictures with Santa…that made the usual lines at Little Man feel short.
The Highland United Methodist Church tree lighting was postponed on Sunday as blustery winds blew down the huge tree, followed promptly by the TBBA's Tennyson Street tree. Which begs the question, "If a tree falls in the Highlands can anyone hear it?" Apparently the answer is "Yes." Niya Diehl and Grant Giengrich, owners of Local 46 and el Camino got the SOS call and helped with Brad Laurvick's team and neighbors to try and resurrect the tree. It underscored the true meaning of Christmas. Give the gift of your presence. The presents will follow.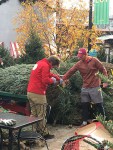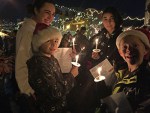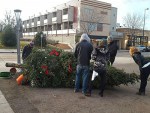 The post Street Seen: Tinsel Town appeared first on North Denver Tribune.